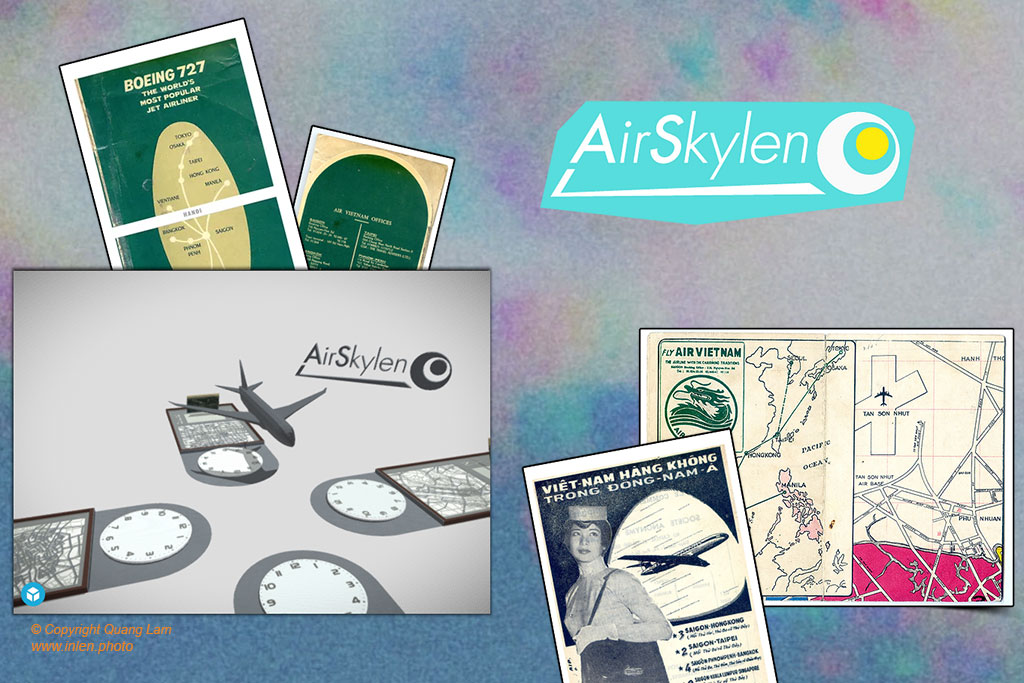 Biennale The Wrong 2023 – Project Air Skylen
The Art Project – Air Skylen is participating the Biennale The Wrong 6th Edition, within the Pavilion ANIMA "Directory", curated by Tam Nguyen, with advisories from Mai Huyen Chi & Xuan Ha and support from Duyen Le and Lien Nguyen
Review of the Art Project Air Skylen
This text has been written by the curator Tam Nguyen for the catalog of the pavilion ANIMA "Directory"
"Air Skylen (2022) embodies Quang Lam's long-term research into the development of the Vietnamese airline industry. "Developing countries such as Viet Nam have a history of modernity but it has been hidden by the official colonial discourse. Air SkyLen project reveals its existence by using airline and urbanism as the key contemporary symbols of Icarus and Daedalus," reads the artist statement. The project features numerous archival materials of Air Vietnam collected by the artist, some of which have their "Air Vietnam'' logos overwritten by the artist's own airline branding, that is, "Air Skylen."
In Directory, these archival objects are scattered across the screen like tourist postcards, accompanied by a number of associated artworks. These include the 3D models of Lam's Time Maps sculptural series (commissioned specifically for Directory); a photographic series where images of airplanes are angled in a way that they appear only meters away from hitting skyscrapers. In the third artwork, Lam's takes a literal spin on the "plane-hitting-building" concept over Video Game Crash – a web-based video game in which the player's sole purpose is to crash the airplane into the city buildings. The last artwork, Meta Morphosis of the Far East, ties the knots together with the artist's investigation into the problematic subtext of modernization fueled by colonial expansion in the Eastern world. All in all, Air Skylen is an ambitious yet carefully spatialized artistic project that provides alternative outlooks into modern historical discourses."
About The Biennale The Wrong
"The Wrong Biennale is the epitome of the digital age, harnessing the power of
technology to bridge gaps and foster cultural exchange. Digital art has become a
medium that transcends language and geography and offers a universal platform
for creative expression.
As our lives become increasingly intertwined with digital platforms and screens,
it is only logical that the art world will evolve to adapt to this new paradigm "
"With millions of viewers, The Wrong could be the world's largest art biennale –
the digital world's answer to Venice." – The New York Times.
About The Pavilion ANIMA "Directory"
"How do we leave significant, tangible traces in a world that is engineered for timed disappearances and constant erasures of genealogies? Directory illuminates how radical investigations into the relations between "human" and "non-human"aspects are needed for a critical outlook on modern experiences."