Air Skylen – Skyliners Crashes
by photographer Quang Lam
The myth to reach the sky is as old as humanity, especially told in the myth of Icarus. It has become technologically possible in 20th century.
Architecture also embraced this myth as the new credo. Nowadays, the term skyline is used to describe this type of urbanism based on the vertical line. Skyscrapers became the symbols of the superpower of capitalism
With the vibrant red and blue colors which are creating a time lag impression, this series is questioning our vision for our future based on unlimited growth.
Watching these photos everyone can remember the 9/11 Event chocking images, the same stupor we should have about our own blind vision
Will we end like as predicted by the myth of Icarus ?
Excerpt from the presentation text by curator Lyno Vuth
This series has been displayed at Sa Sa Art Projects in Phnom Penh (Cambodia) with the XEM collective
In "Skyliners Crash from Saigon to Phnom Penh" by Quang Lam, the artist presents a series of anaglyph images, a stereoscopic photograph technique that duplicates one image into two superimposed ones. This offset images seen in bright red and cyan produces an illusion of movement and instability, heightening the impression of the airplanes crashing into the buildings. Next to them is a video game of a flight simulation over the city map of Phnom Penh that the artist programmed. The mission of the game is to crash into towering buildings that are continuously sprouting and turning them into green spaces. Lam's work questions our perception and relationship with the world, reality, and technology though photography and image-making."
More insights :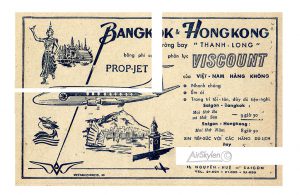 Suggestions for the boutique
Air Skylen – Skyliners Crashes