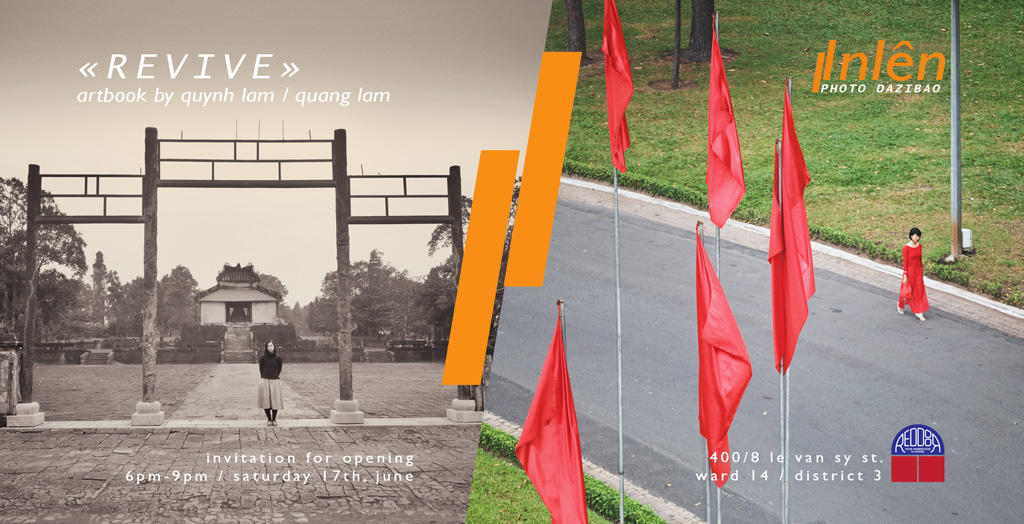 Photo book – Revive
by photographer Quang Lam
For a photographer, the moment of shooting is done in the present.
for a picture viewed, it is a "memento mori" (susan sontag).
it is thus impossible for a person to take photos of the past while the spectator lives this same picture in the present.
"revive" is an experience to find a passage allowing the photographer to be projected into a past-present. the photographer will thus be able to fix this unique moment through his lens and reveal it through a particular composition such that the viewer can see it also at the same moment.
this time frame is "possessed" by the contemporary history of vietnam, not only because of its length and its violence through successive wars but because all events were visible to the world. photography was strategically used as a universal medium capable of changing the course of history.
no one can see a picture of vietnam without being influenced by these iconic photos. in this sense, vietnam is the only place where this past-present can be discovered using photography.
"revive" presents "mnemonics" by the artist quynh lam, her personal family story,
and "r like …" by the photographer quang lam, a historic glossary using only the letter r.
these two parallel series on a contemporaneous period of vietnam's history are the testimony of their journey in this time frame.
About Quynh Lam and her series Mnemonics
saigonese artist nguyen duc diem quynh (b.1988, otherwise known as quynh lam) studied fine art at hcmc fines arts association and later architecture at hcmc university of architecture, graduating in 2007 and 2012. since 2010 she has worked with a range of mixed media
in group exhibitions around saigon.
her showings in alternative art spaces, such zero station, sao la gallery, the factory contemporary arts centre.. demonstrates the vanguard nature of her conceptual work in vietnam.
2016 – saigon artbook 6th edition – the factory contemporary arts centre, hcmc
out of museum – sao la gallery, ho chi minh city fine arts museum
2015 – march: art walk – sao la gallery, ho chi minh city fine arts museum
2013 – conceptual photography workshop – zero station, ho chi minh city
(curator of southeast asia photography/ researcher zhuang wubin)
SERIES MNEMONICS
when i was a child, i found a treasure chest in my uncle's room. it turned out to be filled with old family photos and letters from my relatives
who were photographers and reporters.
because my family moved from the north to the south before the war in 1954 due to which fact i myself was born in saigon in 1988, i know nothing about my northern relatives.
the project uses photography as a device for investigating my family history. as my parents did not want to be reminded of the past, i had to discover everything by myself.
i had to find my long-lost relatives from hanoi to collect more family photos for my project about perceptions or the lack of cultural and personal identity in traumatized nations.
it took me more than ten years to go back to dalat and hue, cities in the center of vietnam, to trace my genealogy.
this is a personal story about a typical southern vietnamese family with overlapping lives and disorientation because of the turmoil of history.
About series r like ... by Quang Lam
reunification – this is the same aspiration for all people who shared the same history but whose destiny has suddenly diverged.
the fate of vietnamese contemporary history can be read through the different names given to this place: governor's palace, independence palace, and reunification palace. the current building was the residence of the southern regime and has been a museum since april 30, 1975 when tanks famously crashed through its gates.
in designating this structure as a memorial to the country's reunification, it is notable that the location is not hanoi or hue but saigon, as if the need for healing was felt strongest in this city. and the 40th anniversary was an opportunity to replay these hours of liberation by a fiction of popular jubilation.
the iconic power of the building does not lie in the beautiful rooms or living areas the "vintage" style of which can be appreciated by those nostalgic for the 70s. the bowels of the country's history where power games have taken place for over a century are in the basement with its gray bunkers and armored corridors.
these communications devices that served to announce the latest chapter remain intact. they secretly retain the voices of the past. the sufferings and joys, betrayals and reunions, the mess and the desires committed in the name of reunification are not extinguished.
More on time in the photographic image
"Time, extended: Hiroshi Sugimoto with Gilles Deleuze"
How can one think time in the photographic image? In the history of modern photography the photograph has been seen as a static object, a frozen moment of time. With the emergence of the beholder past is being changed into present and vice versa.
Suggestions for the boutique
Photo book – Revive